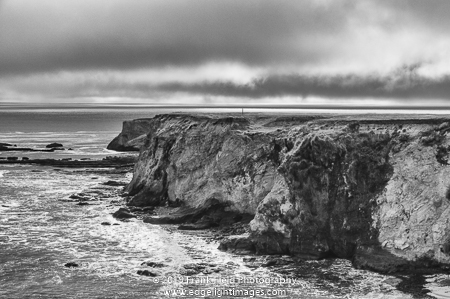 I photograph the landscapes of coastal Northern California, emphasizing the coast from Point Reyes National Seashore in Marin County, through coastal Sonoma County, to Westport in Mendocino County. This is a range of approximately 25 miles to 175 miles north of the Golden Gate Bridge along California's incredible Highway 1.
My goal is to capture a sense the beauty, serenity, and wonderful light that we enjoy on the edge of the continent, away from urban congestion. Living full-time at The Sea Ranch, on the northern coast of Sonoma County, I have an opportunity to watch the daily and seasonal rhythms of the light, land and ocean, and I endeavor to impart a strong sense of this place in my images. While many of my images are of the "grand landscape" of the coast, I increasingly seek to capture the smaller-scale details and textures that say much about our environment here. One could spend a lifetime photographing this area and still have a long list of places yet to visit or re-visit.
My work. While I do capture images in color, I've become increasingly attracted to monochrome photography, popularly called "black & white." As my photography has evolved, my images have tended more toward the graphic, subject matter well matched to monochrome photography. I find the semi-abstract nature of monochrome photography helps to place the emphasis of an image on the light falling on, the structure, and the texture of the subject. The tab Monochrome contains topically organized galleries of my black & white images.
I began actively photographing the coast in 2007. With experience, my photography has continued to evolve. My photography from 2007 though 2011 is now less representative of my current work; I have removed most of those older images from my website. Most of the images on my site are now from 2011 through today.
Recent (Blog). The Recent tab is my blog. I use the blog to announce updates such as posting of new images. Too, I hope to periodically share some of what I have learned about photography.
I welcome your feedback. Please use the E-mail inquiry form on my contact page.